New Amazon.com Website Images From 1997
Posted August 26, 2019 by Version Museum
I n performing research recently on the early Amazon.com years, we came across a video by KIRO 7 News (Seattle) from 1997. It was posted to Youtube in 2016 and only had 2,900 views at the time we saw it earlier this week. Which is a shame, because it has some really useful footage of Amazon's early website which we hadn't seen before (and believe me, we've looked for everything). As a point of reference, this predates the Wayback Machine's first crawl of Amazon.com, which wasn't until December 12, 1998.

Jeff Bezos was frequently on TV in those early days, preaching the gospel of Amazon's revolutionary approach to retail in many media appearances. Those are fun to watch. And while they do have lots of examples of Bezos laughing in his unique way, they don't have any good looks at the website from back then. Some show the website from a distance, or only a portion of the page. Some show the entire web page but it's difficult to make out the content, like this Bezos presentation from 1999.

The KIRO footage is nice because you get to see the homepage relatively clearly, along with a book search page. The quality is not great -- after all, it is a standard-def TV broadcast from 1997. But the layout is clear and the words are mostly legible. We took some screenshots.
Amazon.com 1997 Homepage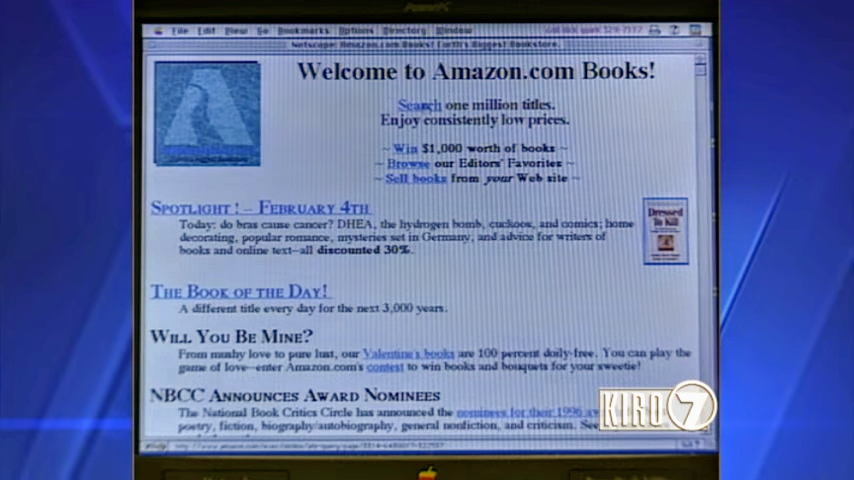 We ran this image through a few filters to improve the appearance, but it's still pretty rough. Nonetheless, the layout is almost identical to the only other known Amazon website image from the time (shown later in this post). However, it has references we haven't seen before, or this early:


A contest/sweepstakes to Win $1,000 worth of books
A promo to Sell books from your web site
A book of the day link, boasting A different title every day for the next 3,000 years
No doubt the book of the day promo is a cheeky reference to Amazon's massive catalog of over one million titles at the time, which dwarfed competitors.


Amazon.com 1997 Book Search Page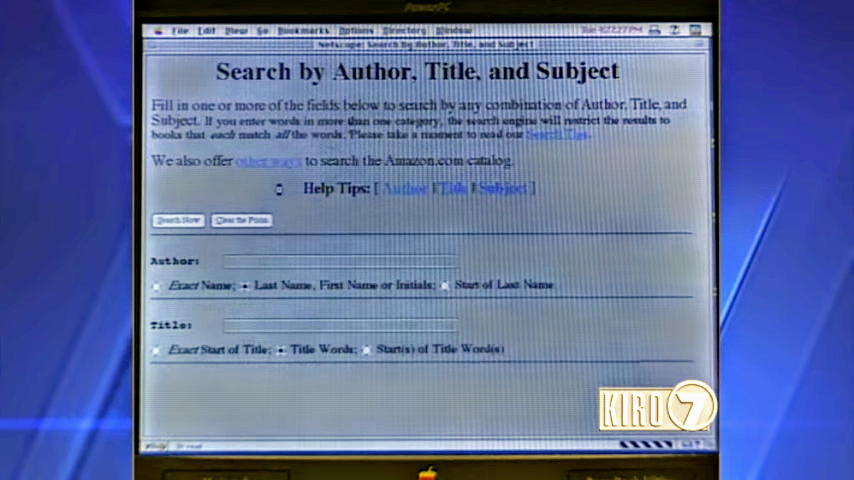 This is a pretty straightforward book search page, with text entry fields for the author, title, and subject. The subject field is not on the page, but it appears the page is not fully loaded yet. As was typical at the time, there were two form buttons: one to submit the form, and another to clear the form fields. The latter button is sort of a time capsule in its own right; it's very rare these days.


Jeff Bezos In Front Of His Website in 1997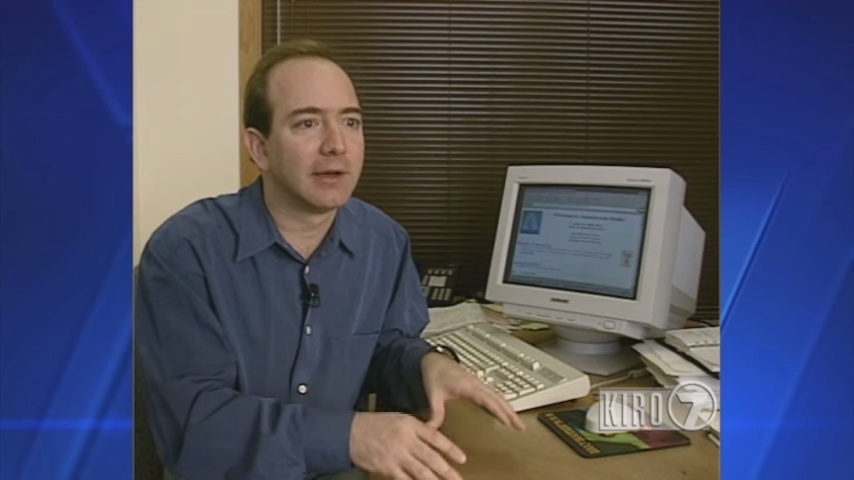 Finally, the last image shows a 33-year-old Bezos talking in front of a computer with his website displayed. At a glance, it appears to be the same homepage as the first image, which is logical. His mousepad seems to have a domain name on it, but we can't make it out. Any guesses? Let us know on Twitter.

Incidentally, our best guess is that the website images are displayed on an Apple Powerbook 1400.


The Only Other Original Full-Page Amazon.com Screenshot (1995)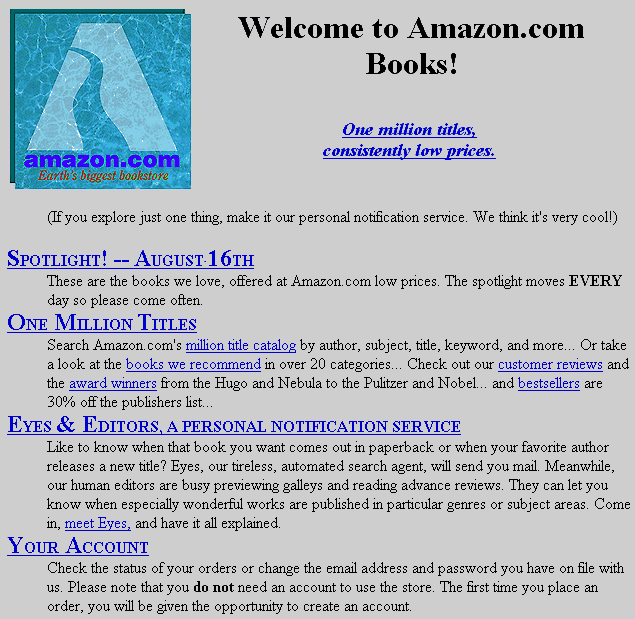 This image, supposedly from 1995, represents the only other high quality, full-page screenshot we have seen from the original gray-background Amazon site of 1997 or earlier. (Of course, let us know if you have others!) It originally had extreme JPEG artifacts and was low quality overall. But thanks to Taran Van Hemert, it has been restored using an improved version of the logo directly from Amazon's website, along with a variety of filters and de-noising techniques. He did this just for fun and gave it to us as a gift, and we certainly appreciate it!

Later in 1997, Amazon shifted to this improved design, forever leaving the gray background behind.

Version Museum is happy to be able to contribute to the limited collection of early Amazon.com screenshots. Hopefully it brings back memories.

Visit our coverage of Amazon's website to see 34 images of the full Amazon.com evolution.
Back to the Version Museum blog index.