Evolution Of The GTA Franchise
If you are a hard-core gaming fan, you've likely played at least one of the Grand Theft Auto games. If a criminal lifestyle is your thing, GTA has it all: stealing cars, assassinations, or even mass murder.
This critically acclaimed franchise has a huge following, yet is infamous with parents for its violent, racial, and sexual content. In all the titles, the player assumes the role of a criminal in an open-world fictitious city in America. Jobs and missions are completed, which include stealing, mugging, assassinations and more. Later versions of the game ascended to more intricate missions, even stealing an underwater nuclear missile.
However, in the early days, the game had a very different feel.
Grand Theft Auto 1 (1997)
Publisher: BMG Interactive
Developer: DMA Designs
Expansions and DLCs: Grand Theft Auto: London 1969 (1999), Grand Theft Auto: London 1961 (1999)

The inaugural version of the franchise was originally released for Windows based PCs and MS DOS in October 1997, and was later ported to PlayStation and the Game Boy Color. GTA 1 is a two dimensional setting featuring a top-down bird's eye view camera.
Players play the role of a criminal and have to complete jobs involving theft, robbery and assault. New missions are acquired by answering public telephones in the game world. GTA 1 game play is based on points, with a certain amount of points needed to complete levels. Points can be used as currency to purchase various items available in the game. Missions become more difficult as the game progresses, but players who are stuck can use a variety of cheats to surpass challenging areas. The game was slated to be released as Grand Theft Auto 64 for the Nintendo 64 platform, but never was.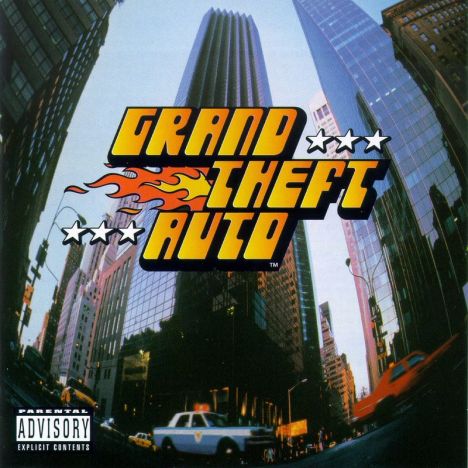 GTA 1 box cover (1997)
Source:tvtropes.org
Map of Vice City (1997)
Source: GTA Wiki
Grand Theft Auto 2 (1999)
Publisher: Rockstar Games
Developer: DMA Design

After the success of GTA 1, a sequel was a natural move and GTA 2 was born. Gameplay style was similar to GTA 1 in that this was also a top-down, bird's eye view camera and a two-dimensional action adventure game. The PC version of the game allowed players to play in two different modes called Noon and Dusk. The quality of graphics improved in Dusk mode.
Rockstar kept the same mission format as in the original GTA 1. Players answer public telephones in order to receive missions from crime bosses residing in Anywhere City, the setting of the game. This entry of the series also came with 4 multiplayer modes: Deathmatch, Team Deathmatch, Race, and Tag. GTA 2 was released on PlayStation, Dreamcast, Microsoft Windows, and Game Boy Color.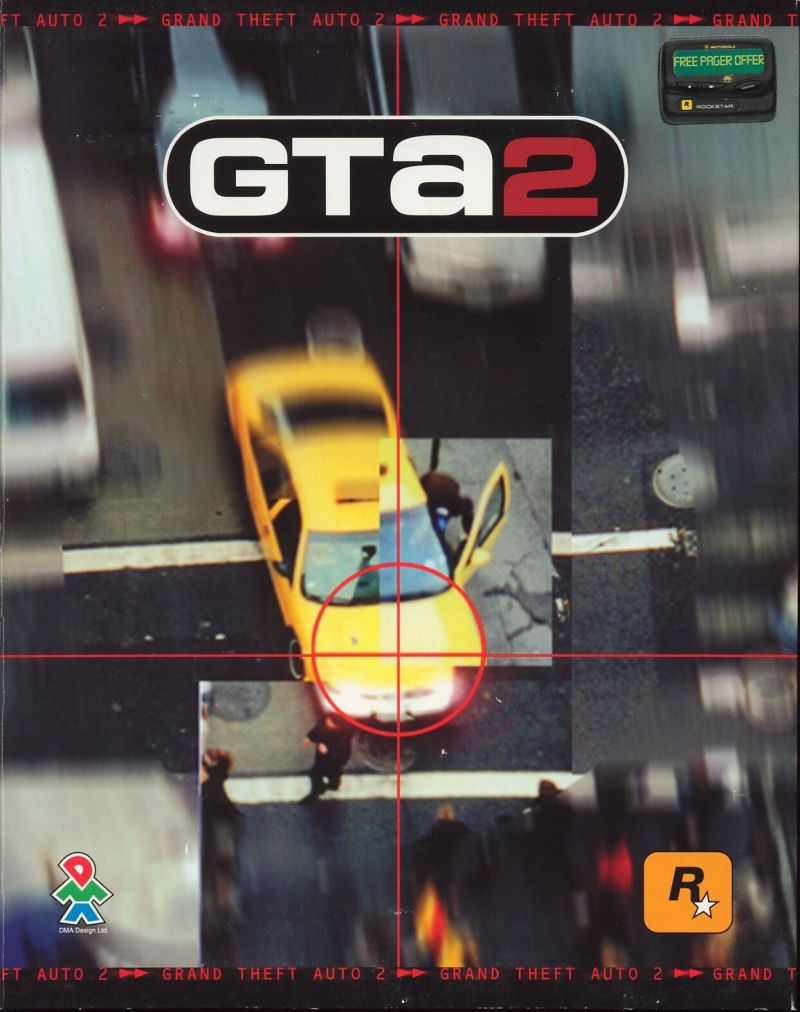 GTA 1 box cover (1999)
Source: GTA Wiki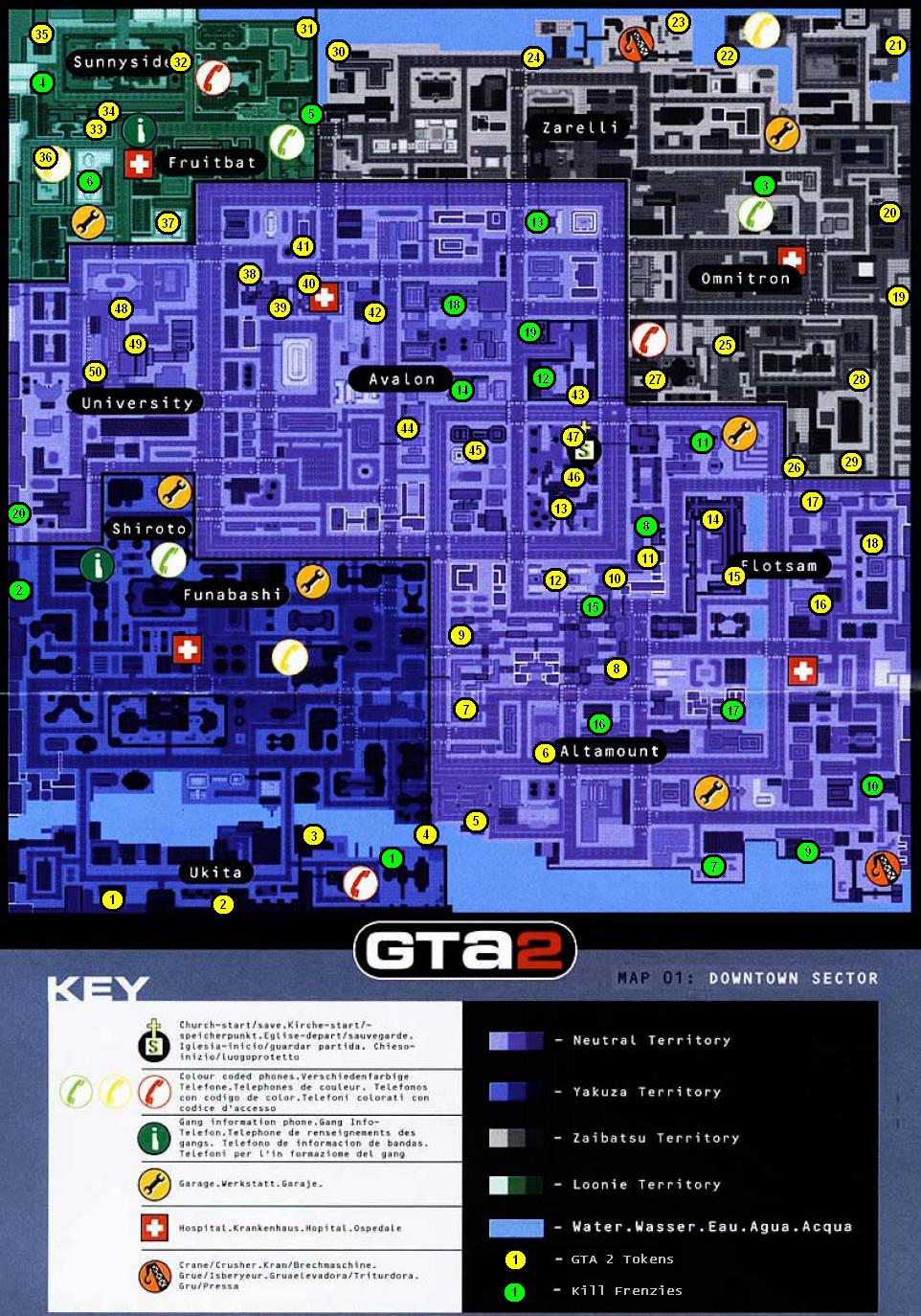 GTA 2 map of Downtown (1999)
Source: GTA Wiki
Grand Theft Auto III (2001)
Publisher: Rockstar Games
Developer: DMA Design
Expansions and DLCs: Grand Theft Auto Liberty City Stories (2005)

This game represents the revolutionary, franchise-defining entry in the GTA series. GTA 3 was released on October 22, 2001 and was the first game in the series to feature a 3rd person POV gameplay. Players see the new and enhanced open world through an over-the-shoulder camera.
Grand Theft Auto 3 also marked the significance of returning to Liberty City, featured in the original GTA 1. Players take on the role of Claude, a criminal who is shot by his girlfriend during a bank robbery and subsequently arrested by police, convicted, and sentenced to prison. However, while transferring to jail, Claude and another prisoner escape and make their way to a safe house, where he's introduced to a crime boss and begins his quest for revenge.
As the main character commits crimes, the "wanted level" accumulates which makes increasingly aggressive law enforcement officers chase you until you're caught or somehow evade capture. The game was the first in the series to be built on a 3D game engine. Upon release it quickly became a fan favorite and was praised by numerous critics. Grand Theft Auto III is still popular today and available across various platforms such as Microsoft Windows PCs, XBox, and PlayStation consoles. It has since been released for Mac OS, Android, and iOS.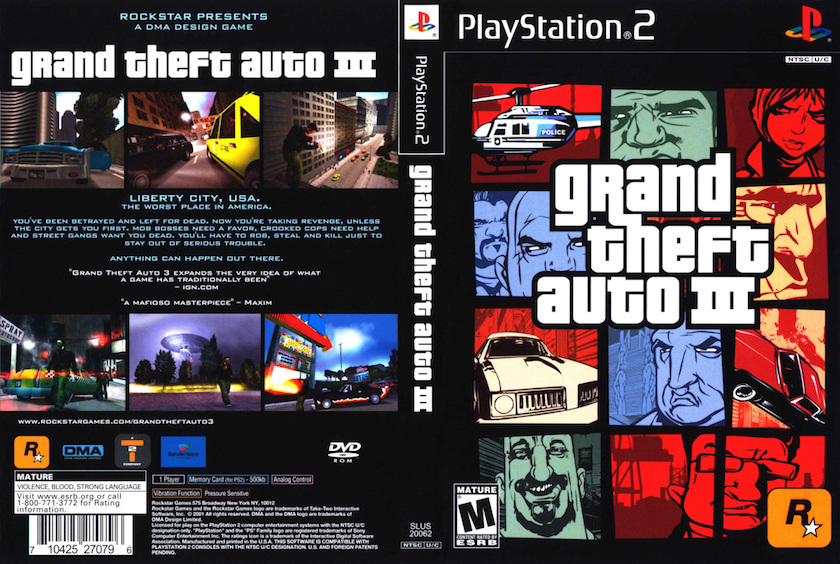 GTA 3 box cover (2001)
Source: wikia.com
Grand Theft Auto: Vice City (2002)
Publisher: Rockstar Games
Developer: DMA Design
Expansions and DLCs: Grand Theft Auto: Vice City Stories (2006)

The sixth GTA game of the franchise was the second title to use a 3D graphics engine. Vice City is a fictional city based on Miami. After a drug deal goes wrong, mafia hit man Tommy Vercetti goes out for revenge. Like the previous games, players have freedom to travel around the open world of Vice City.

As the story progresses, players complete main and side missions to unlock more playable areas. Graphics and gameplay are almost the same as the previous entry of the series. The story of Vice City is set 15 years prior to the events of GTA III and include some of the same NPCs in the game. Like the other games in the franchise, it has a variety of transportation options: cars, motorcycles, boats, and helicopters.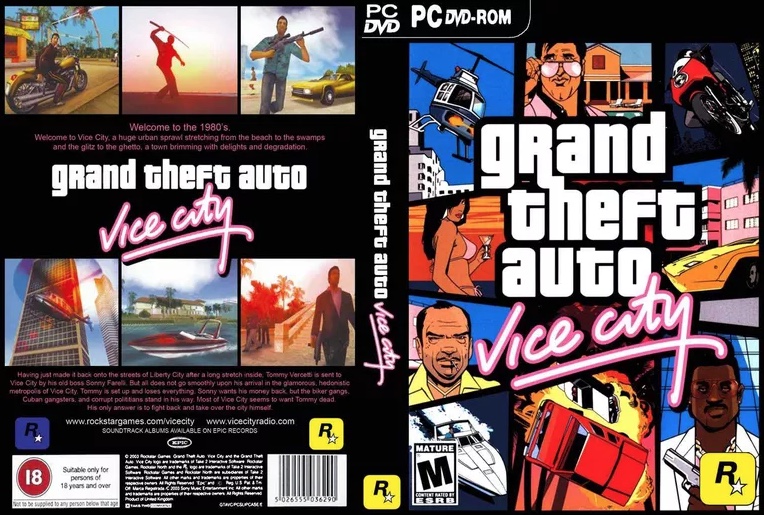 GTA 3 box cover (2002)
Source: lifewire.com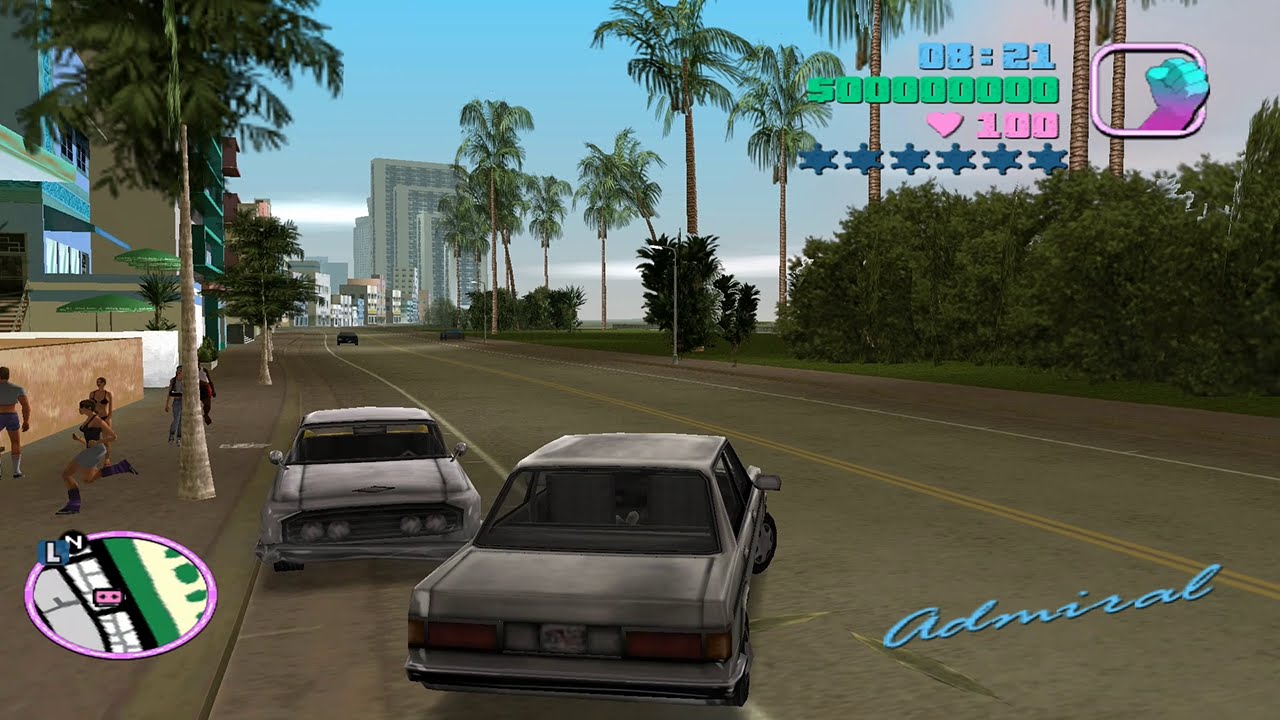 GTA Vice City gameplay (2002)
Source: igcompany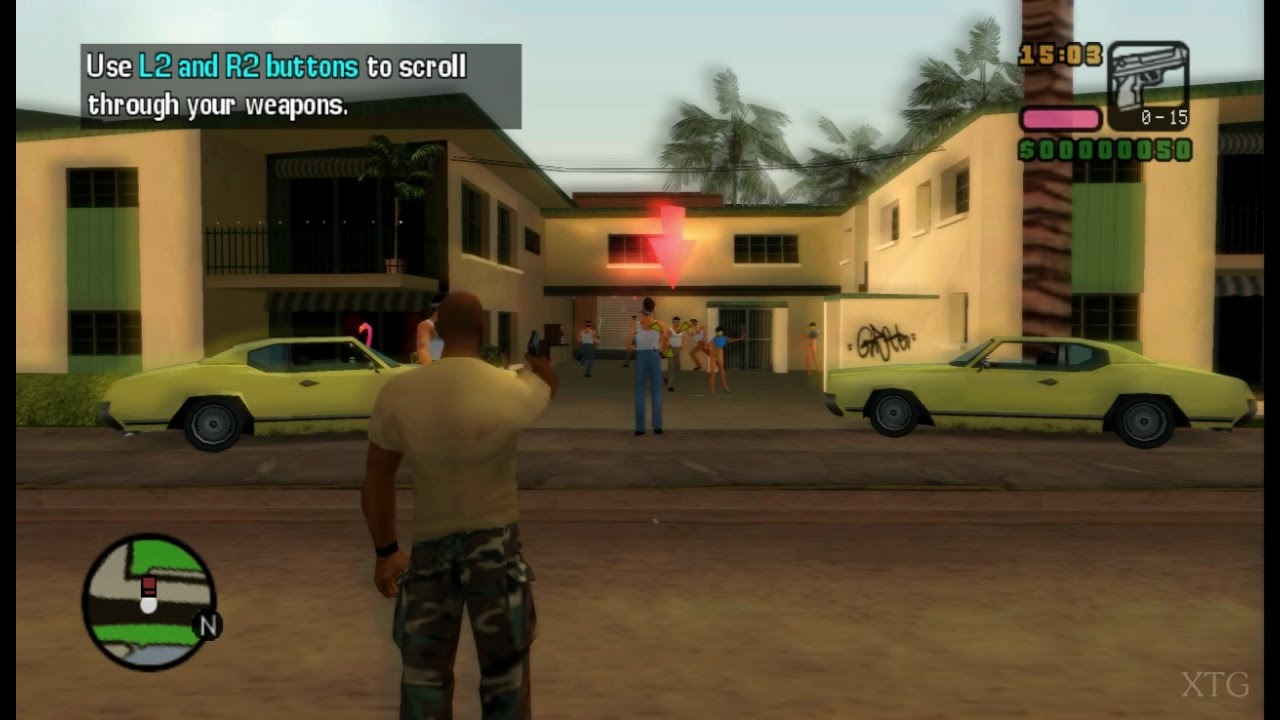 GTA Vice City gameplay (2002)
Source: xTimelessGaming
Grand Theft Auto San Andreas (2004)
Developer: Rockstar North
Publisher: Rockstar Games

Grand Theft Auto San Andreas used essentially the same graphics engine as the previous two titles of the GTA III era. Using a massive open-world game map, it is set in the state of San Andreas which is loosely based on the states of California and Nevada. Most of the gameplay takes place across three cities: Los Santos, San Fierro and Las Venturas (which are based on Los Angeles, San Francisco, and Las Vegas respectively).

The story revolves around CJ (Carl Johnson), who was framed for murder by corrupt cops. CJ completes missions for these cops to maintain his freedom. GTA San Andreas stylistically follows its predecessors in terms of gameplay, but introduces role-playing concepts. The player can completely change their look, and has to eat and exercise to improve their physique. The title had its share of controversy due to a mod called "Hot Coffee." This mod unlocks sexually explicit content in the game. For that, it was banished from many store shelves, and its rating also changed from Mature to AO (Adult Only).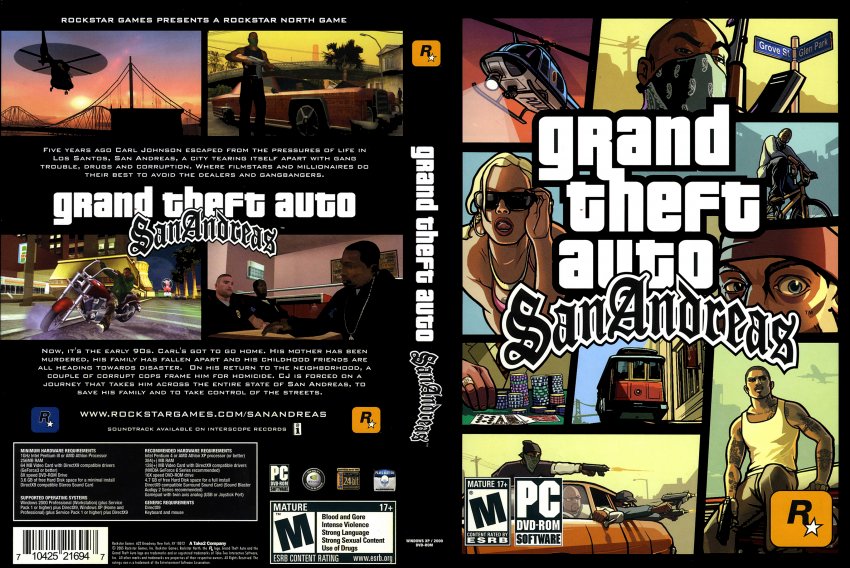 GTA San Andreas box cover (2004)
Source: dvd-covers.org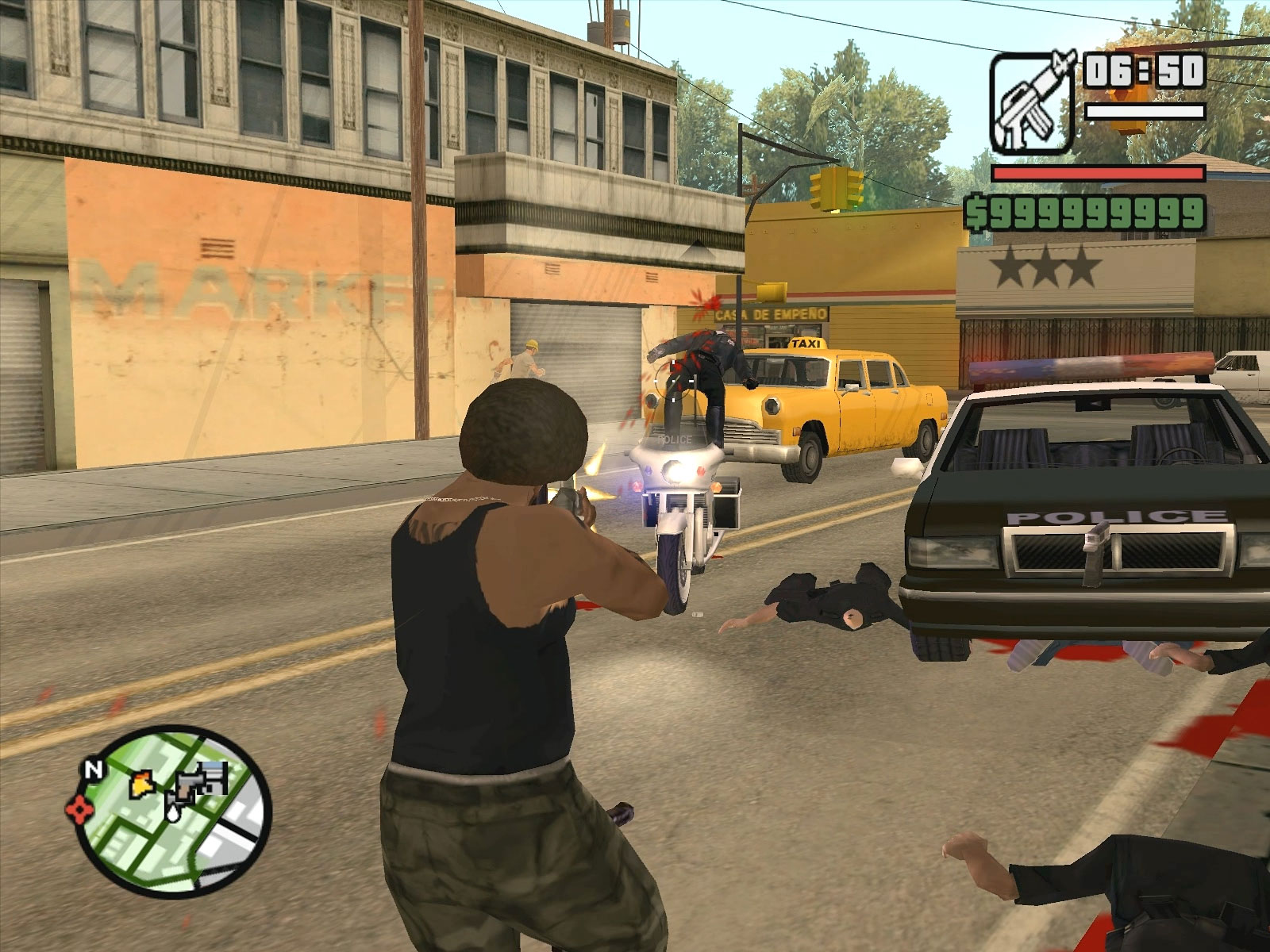 GTA San Andreas gameplay (2004)
Source: retrogameage.com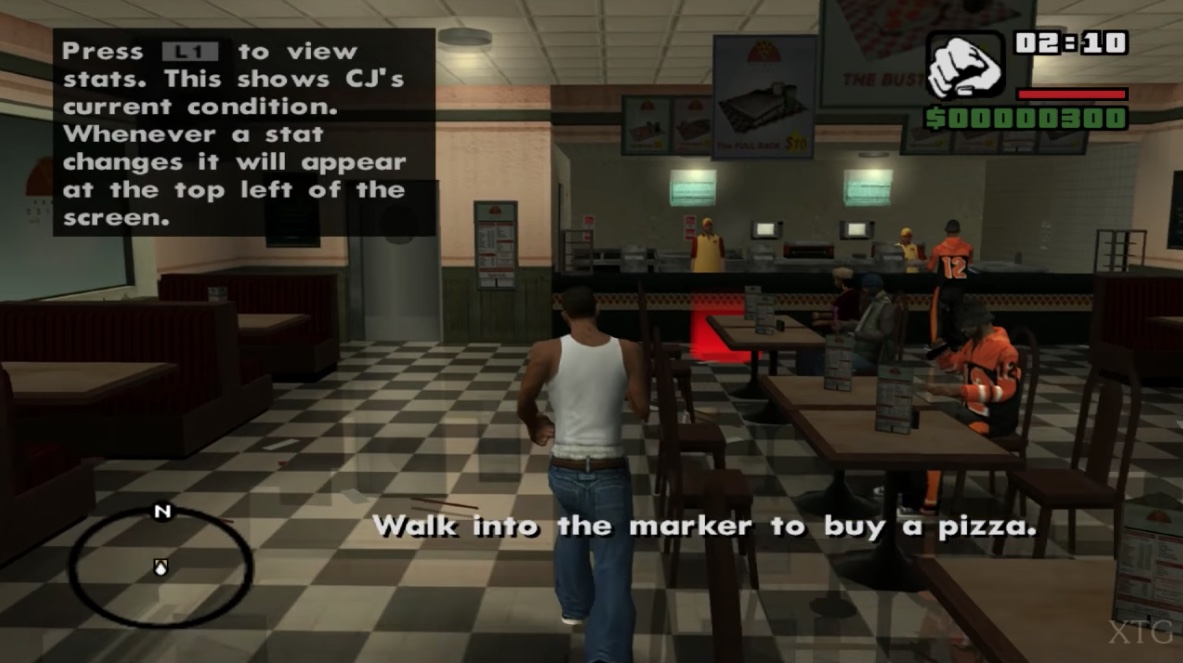 GTA San Andreas gameplay (2004)
Source: xTimelessGaming
Grand Theft Auto: IV (2008)
Developer: Rockstar North
Publisher: Rockstar Games
Expansions and DLCs: The Lost and The Damned (2009), Ballad of Gay Tony (2009)

GTA IV marked the introduction of the Rockstar Advanced Game Engine (RAGE) to the series. The RAGE platform elevated gameplay to new heights of realism and rendered the urban setting in more detail than GTA III. RAGE has been used in a number of titles, such as GTA 5 and the Red Dead Redemption series.

Players once again return to the setting of Liberty City as the immigrant with big dreams -- this time as Niko Bellic. GTA IV contains main missions, as well as side missions to complete.

Players travel Liberty City (based on new York) by vehicle or by foot. In combat, the player can use a variety of melee weapons. GTA IV also contains a first person POV mode, a first in the series. Players can use this mode while driving vehicles.

The game contains a multiplayer mode for up to 32 players, including Death Match and street races.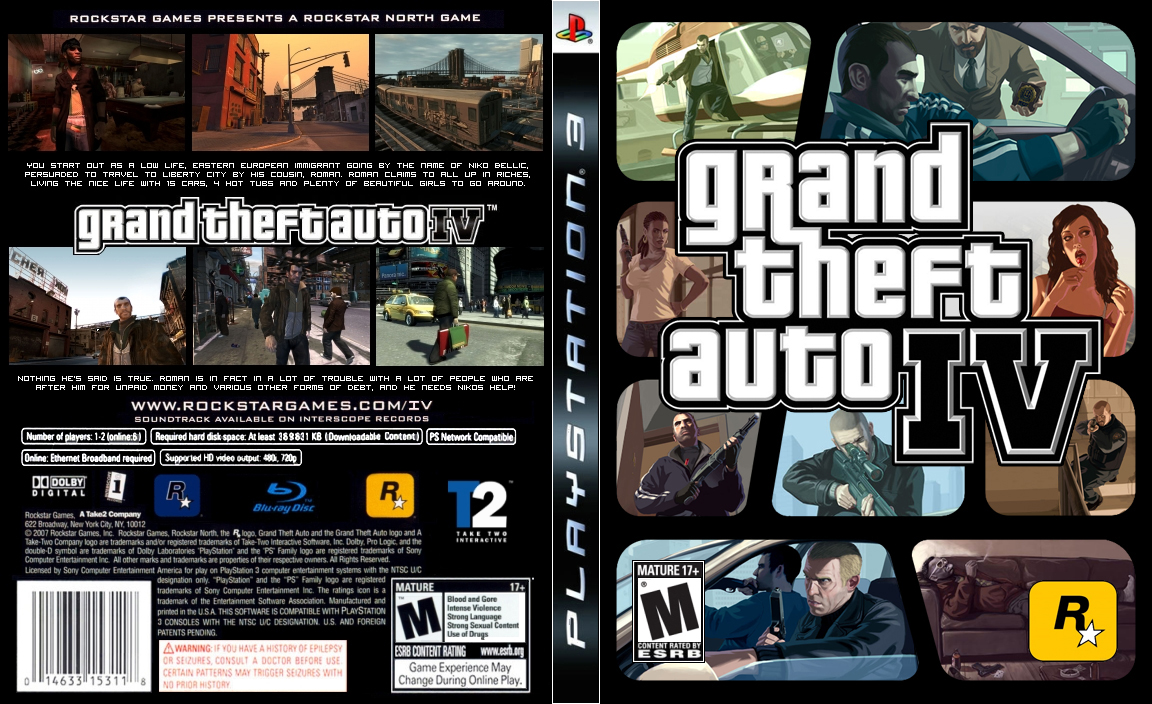 Grand Theft Auto 4 box cover (2008)
Source: pistonclasico.com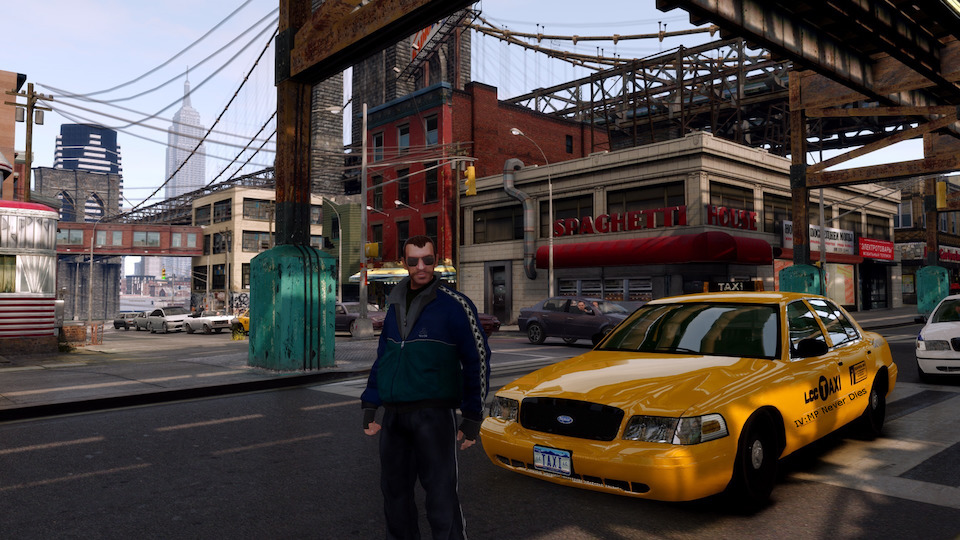 Grand Theft Auto 4 gameplay (2008)
Source: moddb.com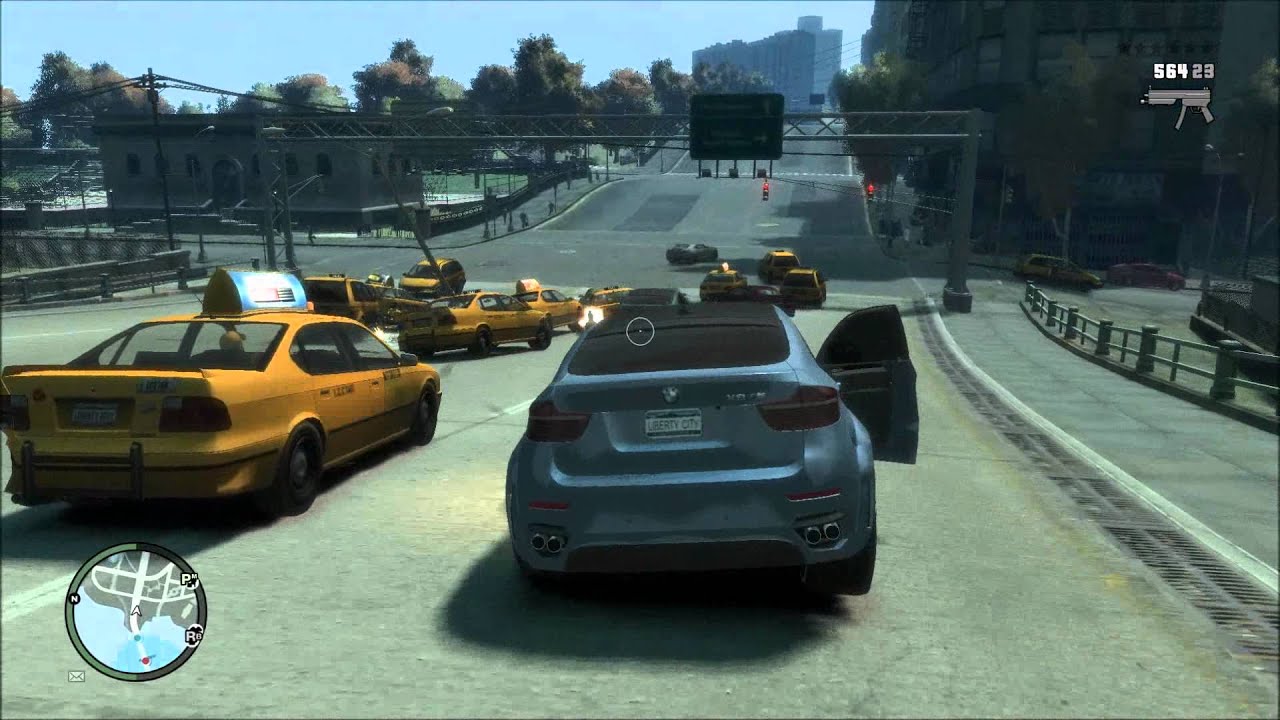 Grand Theft Auto 4 gameplay (2008)
Source: HD6990Gamer
GTA V (2013)
Developer: Rockstar North
Publisher: Rockstar Games

GTA V is the fifteenth release of the series and is the most graphically advanced game of its era. It uses the Rockstar's RAGE graphics engine, and offers an enormous game environment simulating southern California with improved AI, dense traffic, a wide variety of air, land, and sea vehicles, weather effects, and more.

GTA V contains the same open world design with the option of using either the first or third person camera POV. Like previous titles, players unlock different parts of the map by making progress in missions. The game revolves around three main protagonists: Michael De Santa, Trevor Philips and Franklin Clinton. Each character has a special ability which is improved by gaining experience points. Once there is enough progress in the story, the player can change characters.

The graphically sensational game featured many environments, all rendered in beautiful detail. Not just the typical urban scenery was featured, but also tall mountains, serene beaches, oceans, wilderness, strip malls, and luxury stores.

GTA V was a smash hit, selling $800M in the first day alone. It is the third most popular video game of all-time, selling over 110 million copies as of 2019.
Please help support our museum hosting costs by making a small donation -- buy us a coffee! Thank you so much!
Buy us a coffee!
Scroll up
to the top
.